Dome Creations LLC is Your Local Authorized Solexx™ Dealer
All of the following information is retrieved from adapt8.us/solexx
Solexx™ Greenhouse Covering
Bends like film, insulates better than Polycarbonate
Solexx™ is an insulated, flexible plastic covering that easily turns nearly any structure into a high-performance greenhouse. Made from high-density polyethylene plastic (HDPE), the superior twin-wall covering provides optimal diffuse light, significantly lowers energy costs, reduces condensation, and protects plants from harsh conditions without shattering, cracking or discoloring.
Durable in Extreme WeATHER
Withstands hail, wind and snow
Won't discolor or reduce light transmission over time
Won't crack in the cold
100% diffuse for optimal light for up to 25% faster growth
Sun and shade-loving plants grow side by side
Reduced temperature fluctuations
Energy Savings & Efficiency
Superior insulation
Qualifies for energy rebates
Stays cooler in the summer
Reduces condensation
Installs on any structure
Continuous rolls eliminate seams
Bends over corners and roof
Trimmable material
REDUCED LABOR & LIABILITY COSTS
Guaranteed with 10-year limited UV warranty
No yearly repairing and replacing
No seasonal whitewashing (reduces injuries)
Consistent growth throughout (no plant rotations to sunnier locations)
Inert and BPA free

Can be disinfected without off-gassing

Keeps plastic out of the landfill

Recyclable
Solexx™ is available in continuous rolls and pre-cut panels, each offered in 3.5 mm or 5 mm thickness. The 5mm material is recommended in colder climates for added insulation, in high-altitude areas and for structures with wide spans.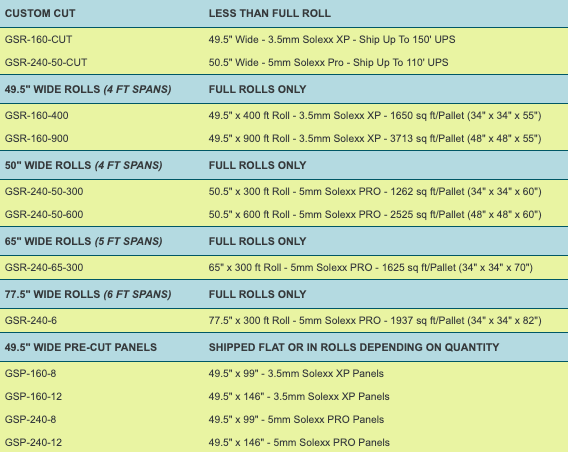 Compare to Other Materials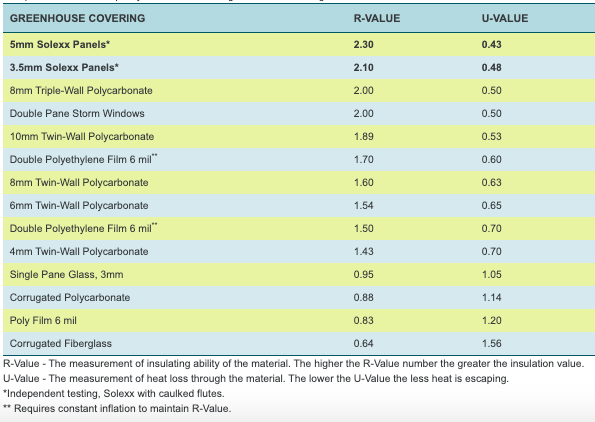 Solexx panels are easy to install. Much more flexible than twin-wall polycarbonate greenhouse panels, Solexx bends around corners and is easily scored and cut. Panels can be screwed onto existing greenhouse frames, and continuous rolls allow for fewer seams when covering structures. For detailed installation instructions, contact a representative at 1-877-476-5399 or
Capturing Benefits of Diffused Light
Solexx covering is designed to diffuse light evenly. Light bends and reaches into every corner to touch all foliage, not just the upper canopy. Such consistent growing conditions allow plants to develop uniformly for an even crop ready for market simultaneously and up to 25 percent faster.