Welcome to Dome Creations
We build custombeautifulsustainableeco-friendly
greenhouses
Let us build one for you today!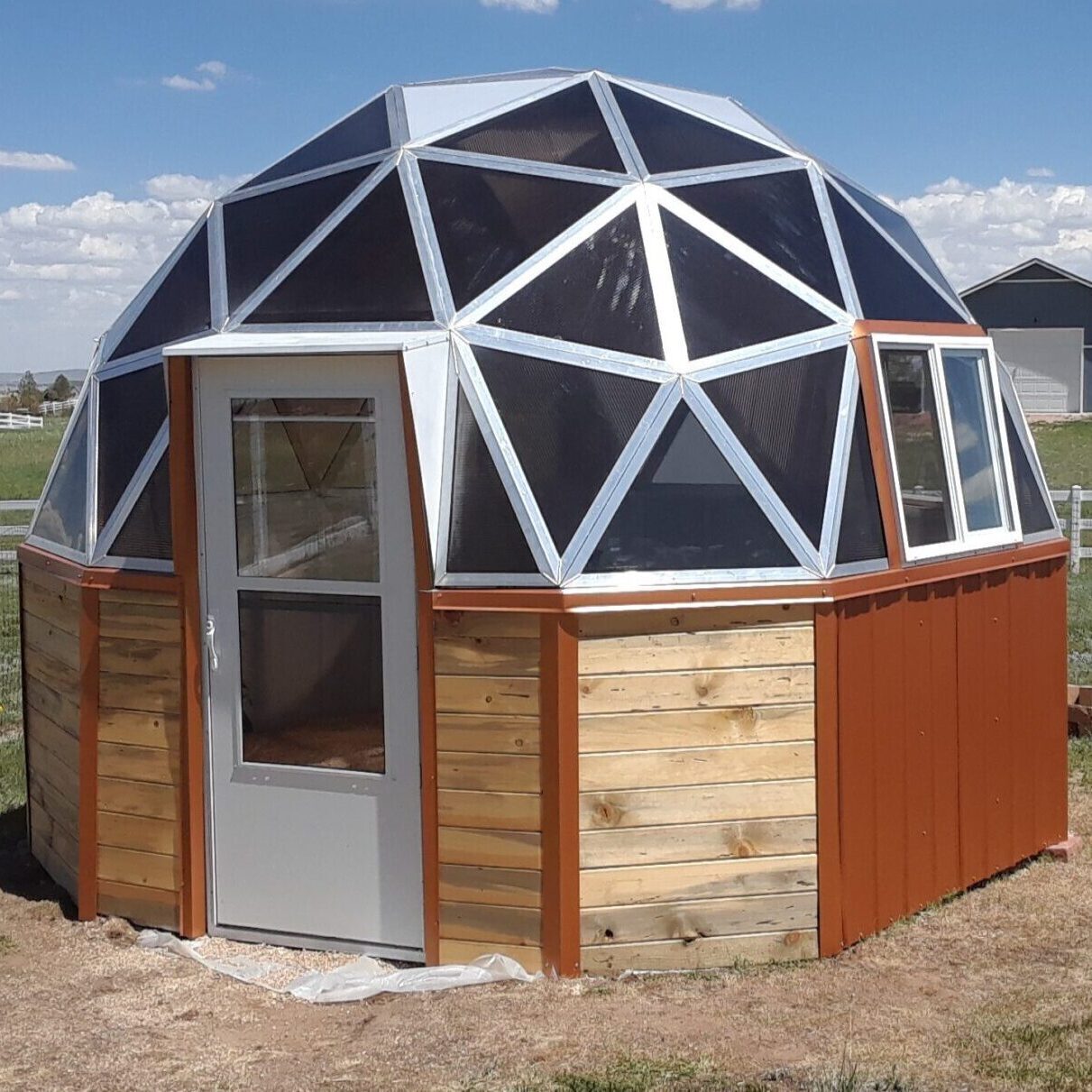 There has never been a better time to start growing your own food. With our unpredictable Colorado weather, choosing to grow in a greenhouse can greatly improve your chances of harvesting fresh produce from your own backyard. Each year, on average, Colorado has a growing season of only about 120 days, leaving outdoor gardens dormant for the other 2/3 of the year. Greenhouses allow you to grow a wider variety of fresh, clean, produce nearly year-round!
We know that every home, every budget, and every garden is different. Here at Dome Creations, we will work with you to select and build the best greenhouse for you and your family. We believe that growing your own food will be a rewarding and sustainable decision. It's time to take that next step in your gardening journey and let us build the greenhouse of your dreams.
Explore our website to learn more, or call us at (719) 502-5519.
The Geodesic Dome is our best-selling greenhouse enclosure – here's why!
Geodesic Domes are an affordable option for building enclosures of almost any kind. From the beginning, our domes were designed for strength and durability through efficient use of materials. We build each enclosure in one day or less, utilizing less labor than competing structures. Overall, these domes provide among the best value on the dollar of any quality building available on the market.
Quality geodesic domes are green by design. They require only about 2/3 of the building material typically used by other structures of the same size. Additionally, after they are built, these Domes can be readily adapted to optimize geothermal, solar, and other sources of alternative power. Geodesic Domes are energy misers to begin with, and can be easily taken off the grid.
A Geodesic Dome of over 700sqft can easily be transported in a small trailer to any site. With set up and take down of a full dome taking no more than a few hours, more camping enthusiasts are using geodesic domes as their shelter of choice. With an investment such as this, it is comforting to know that should the structure need to be moved, it can be done so quickly and easily.
Geodesic Domes have been used for years as second homes, hunting cabins, spa enclosures, greenhouses, man caves, and disaster relief shelters. Even now, the tiny home trend has led homeowners to take up residence inside our domes. The possibilities are endless, and purchasers are only limited by their own imaginations.
Check Out this Gardening Blog from Keller Williams Realty!
"Tips for Gardens Great and Small"

Like the fabled "Victory Gardens" of WWII before them, urban and backyard vegetable gardens became a vital source of food and purpose for many people last year when world events threw supply chains into disarray. A year has passed, but interest in do-it-yourself food production has remained, and more and more DIYer's are getting into growing their own crops.
Your ability to grow fruits, vegetables and a variety of herbs at home depends primarily on just three things: climate zone, space available and your level of commitment. With plenty of warm days ahead, it's not too late to get started on a garden of your own…